5 min. read
A gasket is a mechanical seal between two or more flat surfaces (flanges), that fills the space between them. Gaskets are used to prevent leakage of liquids, gases, or debris into or out of the joined objects/parts. The gasket is made of a "deformable" material that creates a static seal, even if the relatively flat flanges have surface irregularities.
Manufacturers have left behind traditional die-cut peel-and-stick gaskets in large numbers, in favor of form-in-place (FIP) gaskets, from the automotive, medical, and electronics industries.
Let's look at exactly what a form-in-place gasket is and how we can maximize manufacturing output with gasket-dispensing jet valves.
TOPICS COVERED
What is a Form-in-Place Gasket?
Top 5 Advantages of Jet Dispensing Form-in-Place Gaskets
Dispensing Video: Form-in-Place Gaskets
Purchasing Considerations
What is a Form-in-Place Gasket?
A form-in-place gasket is created when a sealing material is dispensed onto a metal or plastic part's surface before assembly. Since the gasketing material is dispensed as a liquid, it conforms precisely to the part's surface, even if there are imperfections. After curing, the parts are assembled, and a reliable seal is made.
With the precision of modern dispensing valves and robotics systems, form-in-place gaskets can be applied to surfaces less than a millimeter wide.
Very similar to form-in-place gaskets are cured-in-place (CIP) gaskets. CIP gaskets are the same as FIP gaskets, except the parts to be sealed are joined immediately after the gasketing material is dispensed, and then the material is cured. For our purposes, we will generally refer to both as form-in-place.
Top 5 Advantages of Jet Dispensing Form-in-Place Gaskets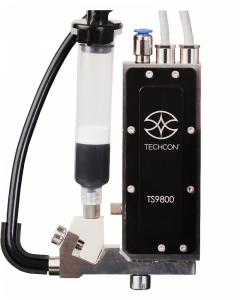 There are several methods for dispensing FIP gaskets, but the technology that offers the best balance of precision and speed is a jet valve, particularly a piezo-actuated jet valve like the Techcon TS9800 Series Jet Valve.
1.        Unparalleled Speed
It is common knowledge in the manufacturing world that jet valves are fast. Most jet valves can dispense up to 500 shots per second, which is 100x faster than an auger valve or pc pump. But the piezo technology of the TS9800 far outpaces the pneumatic tech of other jet valves, clocking in at up to 1500Hz continuous, and 2000Hz burst, making it the fastest dispensing system on the market.
For more details on how piezo jet valves achieve such amazing speeds, see our white paper, "Jet Dispensing Technology – Shooting for Perfection."
2.       Dispensing Tiny Gasket Lines for Exacting Designs
Not all gaskets are huge automotive cylinder head gaskets. Gaskets are also used in miniature electronics and delicate display units. Gaskets that small and intricate call for dispensing as accurate as possible. TS9800 dispenses dots as small as 0.5 nanoliters, which means gasket lines small enough for the most demanding design.
3.       Volumetric Accuracy
Particularly for smaller and more intricate gaskets, volumetric accuracy of the dispensing system is crucial. Even a tiny variation in the amount of gasketing material applied can lead to waste or an unreliable seal.  TS9800 Jet Valve was designed for just such strict parameters, with a volumetric accuracy of +/- 3%, which is astonishing accuracy for a valve of the speed of the TS9800.
4.      Can Handle A Wide Range of Viscosities
Dispensable gasketing fluids varies greatly in materials and viscosity. Depending on the application, dispensed-in-place gaskets may be made of silicone, synthetic rubber, fluorosilicone, or other materials and fillers, with a wide range of viscosities (1K – 165K centipoise or more). Techcon's TS9800 can readily dispense viscosities between 1 cps and 2 million cps (the consistency of lard). And there is an available localized fluid housing heater for superior viscosity stabilization. This versatility enables operations to essentially use whichever material best suits their gasketing application, so their fluid choice is not dictated by the limitations of the dispensing system.
5.       Quick and Easy Parameters Settings On the Dedicated Controller
The key to producing the complex and exacting gaskets needed for today's electronics is to determine the exact balance of system settings and parameters, to ensure the precise amount of material is dispensed at the correct volumes.  This is another area where jet valves shine.
When configuring a system like the TS9800 Series Jet Valve, material and jetting pressure values and other settings are easily entered into the dedicated controller, like the TS980 Jet Valve Smart Controller.  The TS980 features an intuitive touchscreen user interface for easy setup and operation. With its ethernet port, the TS980 can be monitored, and the settings adjusted, from anywhere in the world.
The challenge is determining what the settings in the controller should be. This is where support from the valve manufacturer is crucial. If you are in the market for a jet valve system, be sure to assess the level of assistance you will receive from the manufacturer. To make the transition to the TS9800 as seamless as possible, Techcon offers to test any prospective customer's materials in their onsite labs, to establish the exact parameters needed for that customer's application.


Explore all Jet Valve Resources
Purchasing Considerations
If a jet valve sounds like the perfect solution for your gasketing needs, here are a couple of things to keep in mind:
Not All Manufacturers Are Capable of Making Top-Quality Jet Valves
A jet valve is a highly precise piece of high-tech equipment and must be designed and built to exacting standards. The tolerances of piezo jet valve production are especially tight and producing them within those tolerances may not be possible for all manufacturers and parts fabricators.
Problems can quickly develop with lower-priced jet valves, causing costly dispensing failures and inconsistent speeds that gravely impact quality and productivity. Be sure to purchase from a top-quality dispensing valve manufacturer like Techcon, to ensure consistent, predictable FIP gaskets.
Buy A System, Not Just Equipment
A jet valve system is a sizable investment. Some operations, in an attempt to save money, will source their valves, controllers, and accessories from different manufacturers. Their piece-meal systems may seem like a savings in the short term but ends up costing more in the long run due to waste and compatibility issues. A piece-meal system will never achieve the speed and accuracy of a purpose-built system.
Always opt for the single-brand approach of purchasing systems, where the pieces are specifically engineered to work together as a whole (especially valves and controllers).  This not only leads to the best system performance and ease of use, but also will only require one source for service and support. Also consider the availability of compatible accessories and equipment to be teamed with the Jet Valves and other dispensing equipment in the operation, like robots and automation equipment, pressure tanks and feeding systems, and dispense tips and syringes.
Take Away
When choosing a dispensing system for form-in-place and cured-in-place gaskets, consider the speed, accuracy, versatility, and ease of use of the system, the support from the manufacturer, and the overall integrity of the system and the company behind it.
If your operation demands the highest speeds possible, with volumetric accuracy and consistency, a piezo-actuated jet valve, like the Techcon TS9800 Series Jet Valve System, is your dispensing solution.  Contact Techcon today to see which would best fit your gasket dispensing needs.
ABOUT TECHCON: Since 1961, Techcon has provided precision fluid and adhesive dispensing equipment to a range of service industries, including industrial assembly, aerospace, military, material packaging, medical device, and electronics. Techcon products are renowned for their superior accuracy and durability, yielding improved industrial hygiene and enhanced productivity. Backed by our expert engineering team, Techcon, an OK International company, is delivering smarter, cleaner, more durable solutions. For more information, keep browsing Techcon.com.