5 min read
When we simplify the capillary underfill process, underfilling boils down to the repeated depositing of very precise volumes of epoxy along the edges of microchips, as consistently as possible. If the underfill material placement is accurate, capillary action and heat curing will draw the material under the component, completing the process.
Since proper underfilling helps protect the finished product against damage from impact, moisture, thermal shock, and differences in the coefficient of thermal expansion (CTE) between chip packages and their carriers, the underfill process has become an essential part of the manufacturing of quality electronics.
If the purpose of the underfill process is ultimately to increase the lifespan of a product, then shouldn't manufacturers in the electronics industry seek out the best underfill dispensing systems they can find?
So, if we're hoping to choose the best underfill dispensing system for printed circuit board assembly, what exactly are the factors to look for?
TOPICS COVERED
Choose A System That Dispenses Very Precise Volumes
Time/Pressure Dispensers & Auger Valves
Jet Valves
Progressive Cavity (PC) Pumps
Explore Continuous Flow Technology
Find A System Unaffected by Fluctuations in Air Pressure and Temperature
Choose a System with a Wide Material Dispensing Range
Evaluate The Level of Support from The Manufacturer
Buy A System, Not Just Equipment
Purchase From a Manufacturer You Can Depend On
Take Away
Choose A System That Dispenses Very Precise Volumes
Avoid voids and damage to other components during underfill by choosing a system that dispenses very accurate volumes.
Time/Pressure Dispensers & Auger Valves
Time/pressure dispensers and auger valves are accurate to +/- 10% and +/- 5%, respectively, but this level of variation may be too inconsistent for underfilling today's tiny flip chips and ball grid arrays.
Jet Valves
Jet valves, like the Techcon TS9800 Piezo Jet Valve System, are blazingly fast, depositing micro shots at small as 0.5 nanoliters at up to 1500 Hz continuous. These non-contact systems are literally 10x faster than auger valves, and even 2 – 3x faster than typical pneumatic jet valves. The TS9800 achieves a remarkable accuracy of up to +/- 3%, even at these breakneck speeds, and may be the ideal solution for high-volume operations trying to maximize throughput.
If underfill dispensing speed is required for your application, a jet valve might be the right system for you. Check out our blog, The Best and Fastest Jet Valve for Dispensing Underfill Applications to learn more.
Progressive Cavity (PC) Pumps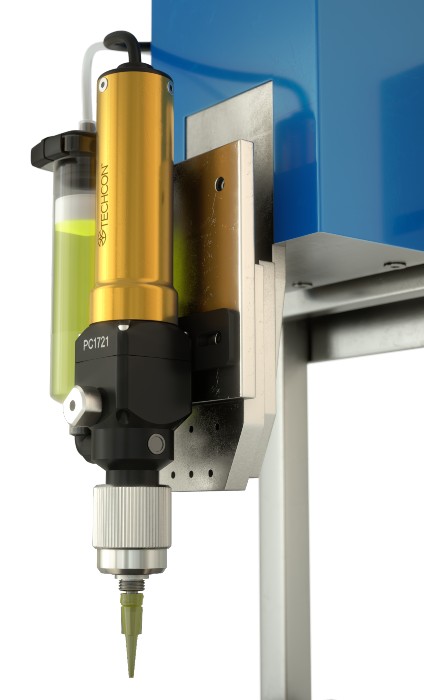 For the ultimate is precision dispensing, only a progressive cavity system, like the Techcon TS8100 Progressive Cavity (PC) Pump, will achieve volumetric accuracy of +/- 1%. In a PC pump, a single-helix rotor turns inside a flexible rubber stator, molded with a twin-helix-shaped aperture. This forms a constantly shifting series of tightly sealed cavities, moving very precise volumes of material toward the pump outlet.
You will not find a more accurate dispensing system than a progressive cavity pump. PC pumps offer the level of repeatability required in the manufacturing of today's high-reliability electronics for the automotive, aerospace, and military and defense industries.
Explore Continuous Flow Technology
In manufacturing, throughput is always important. Unlike other types of positive displacement/volumetric pumps and time/pressure valves, progressive cavity pumps offer continuous flow. As opposed to a filling and refilling approach, a PC pump with its internal material flow keeps throughput speeds consistently high.
Find A System Unaffected by Fluctuations in Air Pressure and Temperature
It is common for system output to be influenced by variations in fluid pressure. Small surges in pressure will suddenly increase the output of the underfill material and drop-back will suddenly decrease the output a few depositions later.  These episodes will occur as the level of epoxy in the tube decreases, or if there is any unexpected change at the air pressure source.
Fluid pressure does not alter dispensing accuracy in a progressive cavity system. Dispensing volumes are dictated by the configuration of the rotor and stator, and the speed of the rotor rotation. Since the system is in constant motion, it provides nonstop material flow and is protected from variations of fluid pressure.
Underfill materials typically need to be protected from fluctuations in temperature. Underfill fluids are often heated to very specific temperatures to ensure proper capillary flow.  And variation in the epoxy temperature will potentially impact the dispense volume as the changing temperature alters the fluid viscosity.
Thankfully, progressive cavity technology protects against these fluctuations. The tight seal between the rotor and stator ensures material in the cavities is protected from ambient temperatures, ensuring consistent and predictable dispense volumes around the chip being underfilled.
Choose a System with a Wide Material Dispensing Range
In case your operation deals with more than just underfill materials, it may be important to consider the range of possible materials the system can precisely dispense.
Progressive cavity pumps can handle viscosities from 1 to 300,000 centipoise, with no degradation in dispensing accuracy. Many users can use a single PC pump for several applications in the PCB assembly process, from applying low viscosity underfill to dispensing high viscosity die attach epoxies.
There are even configurations where a dual PC pump can dispense two-part epoxies with precise mix ratios.
By using one system for many applications, operations can reduce parts inventory, streamline training, and greatly enhance productivity.
Evaluate The Level of Support from The Manufacturer
Determining whether a dispensing system is right for an operation is no small feat and should be undertaken with the help of a trusted manufacturer. Make sure you are consulting with a manufacturer willing to test your underfill materials in their system. For example, Techcon accepts customer samples to test in their lab to ensure the system and the material to be dispensed are compatible, and provides potential users with performance data, dispensing photos, and settings information prior to purchase.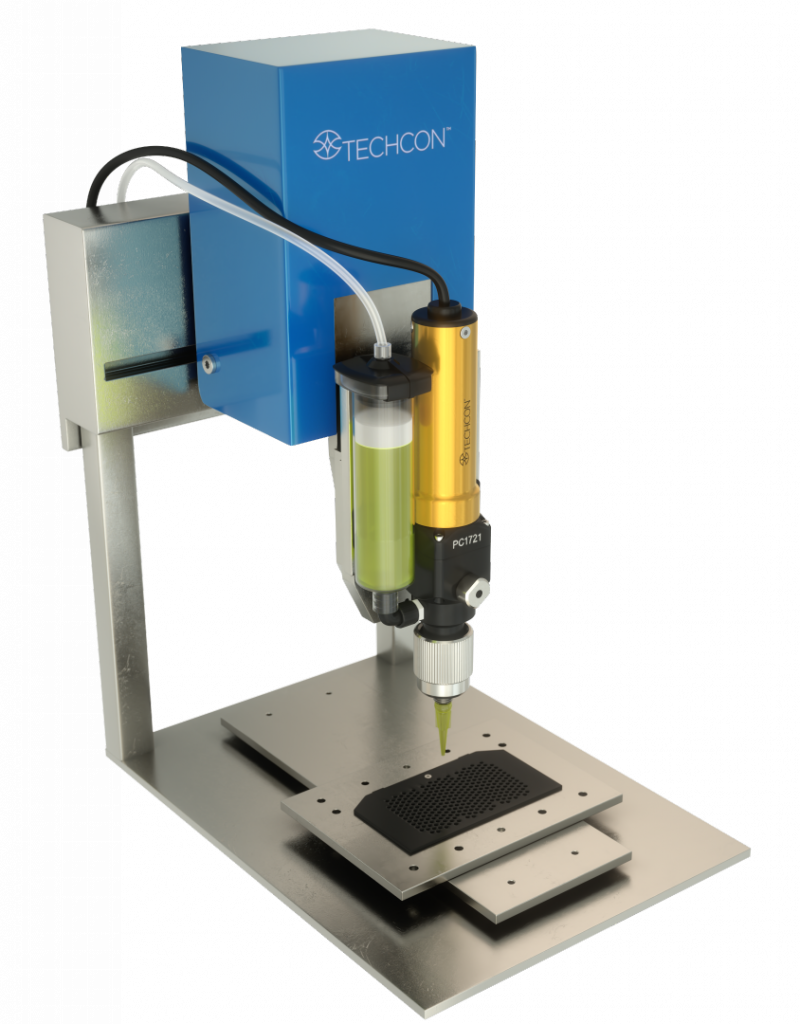 Buy A System, Not Just Equipment
Some operations prefer to purchase from different sources, assembling a system piecemeal in hopes of saving money.  Although this approach may work, it will not result in the "best" anything.
Always opt for the single brand approach, where system pieces are specifically designed to work together as a unit (especially valves and controllers). This leads to superior system performance, but also a one-stop shop for service and support. Also consider the availability of compatible accessories and equipment to be teamed with the pumps in the operation, like robots and automation equipment, pressure tanks and feeding systems, and dispense tips and syringes.
Purchase From a Manufacturer You Can Depend On
Key to the purchasing process should be whether the manufacturer has experience and knowledge of the circuit board assembly industry, underfill dispensing, and the assembly process in total.
Consider the availability of local repairs or service, lead times, and/or in-person or remote assistance after the sale.
Take Away
When it comes to choosing a dispensing system for your underfill process, consider volume precision, how it reacts to fluctuations in fluid pressure and temperature, the possible viscosities dispensed, the level of support from the manufacturer, the system unity, and the integrity of the brand.
If your operation demands the highest volume accuracy and consistency, a progressive cavity pump, like the Techcon TS8100 Progressive Cavity (PC) Pump, can help meet your requirements.  Contact Techcon today to see how a PC pump would fit into your PCB assembly operation.
– – –
ABOUT TECHCON: Since 1961, Techcon has provided precision fluid and adhesive dispensing equipment to a range of service industries, including industrial assembly, aerospace, military, material packaging, medical device, and electronics. Techcon products are renowned for their superior accuracy and durability, yielding improved industrial hygiene and enhanced productivity. Backed by our expert engineering team, Techcon, an OK International company, is delivering smarter, cleaner, more durable solutions. For more information, keep browsing Techcon.com.